Here at L-Tron, we've been busy these past few months talking to anybody and everybody about our new ChildFirst Solution for Child Protective Services. It has been great to chat with these folks at conferences, on the phone, and in meetings to determine what agencies NEED from us when it comes to making the change from pen and paper to a mobile solution.
Automating an entire system is a big task and it may seem scary, but when you consider the enormity of the benefits to be gained, it becomes much clearer that a mobile solution is the way to go!
Here are some commonly asked questions about ChildFirst and security measures.
What devices can we use with the ChildFirst solution?
The software can run on both Android and iOS devices. Blackberry and Windows support is available upon special request. We do recommend the use of certain Enterprise devices due to several contributing factors such as security, ergonomics, usage, and durability, but the needs of your team will dictate what we recommend. Please contact so that we can understand your needs and work with you to determine the best fit.
What is an Enterprise-class device and why would I want to use one?
Enterprise-class means that the device is secure and rugged, holding up to drops and water spills better than consumer-grade devices. With such devices, you have complete control over which applications are on the device, operating system (OS) updates, and you can lock and/or wipe data remotely. Lastly, enterprise-class devices have advanced barcode capture abilities, meaning that scanning speed is fast and reliable, even on dirty or damaged barcodes.
What types of tasks can I use GPS device tracking for?
You can use the GPS device tracking function to stamp the date, time, and location where certain documents, forms, photos and videos were created. It can also be used to find maps and directions to a certain location.
Where is all of my data/information stored?
ChildFirst uses widely accepted standards, so the solution has the ability to store data in whatever format/Database Management System (DBMS) that is currently used by your organization. Some common examples of DBMS's are Oracle and SQL Server. If you do not already have a DMBS, we will work with you to find a good fit for your organization.
What about security? How will my information be kept safe?
As this is one of our most commonly asked questions, we have written an entire blog dedicated entirely to the issue of data security. You can read it here.
Do you still have questions? We'd love to hear from you.
Call 800-830-9523  or  
Email info@L-Tron.com
About the Author: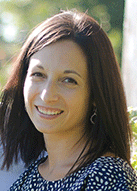 Carmella Giancursio is L-Tron's Public Relations Specialist & Content Editor. When she's not working, spending time with her husband, or taking care of her 3 young kids, she can be found in the kitchen, channeling her Italian heritage!  Email info@L-Tron.com with questions, or call us at (800) 830-9523.