You may have heard the news. Brother® has developed an updated mobile printer: the PocketJet® 7.
While the PJ7 is certainly great for business on-the-go, there is another application for which it surpasses expectations. You guessed it, Law Enforcement! In the short time they've been available, we've already shipped so many of these printers out to our satisfied customers.
Here are 6 reasons why the PocketJet 7 is great for Law Enforcement:
1. Mounts Anywhere!
Upside down and backward? Sure, if that's what will fit best. Patrol cars are usually tight on space, so Brother has made things easy with small printer dimensions and a mount-in-any-direction mentality. In fact, there are even mount options for motorcycles!
2. FAST Full-Page Printing (and exceptional quality goes without saying)
We're talking 8 pages per minute of crystal-clear readability. Think of the possibilities: e-citations, warrants, accident scene photos, Amber Alerts, detailed maps, and more!
3. Unstoppable Battery Charge
The PJ7 can print up to 600 full pages on a single charge, plus Brother offers rechargeable Li-On batteries, AC adapters, and even DC vehicle adapters to ensure that Officers never need to be without their printer up and running during a patrol shift.
**Learn more about speed and battery in '5 New Features of the Brother PocketJet 7 Part I'

4. Withstands Climate Extremes
From the blustery cold temperatures up north to the sweltering desert heat, it is crucial that a vehicle-mounted printer holds up to environmental extremes – and the PJ7 does so without exception.
5. Easy, Easy, Easy
By easy, we mean…easy. There is minimal-to-no training required to get these printers up and running out of the box. It doesn't even require special drivers or apps. What's more, is that maintenance is a breeze with only one consumable (thermal paper) – yes, that's right – NO ink or ribbons to replace!
6. Ahead of the Game
If you've used the PocketJet 6, PocketJet 3, or any of Brother's PocketJet models in the past, you know that this manufacturer has the mobile printing business down pat. Always a step ahead of their competitors, Brother's technology is top-notch and now is the perfect time to upgrade because the class-leading PJ7 is actually the same cost as its PJ6 predecessor!
There you have it. Six reasons that the PocketJet 7 is perfect for Law Enforcement. If you aren't familiar with PocketJet printers, ask one of your colleagues from another agency- chances are, someone from will be able to mirror my sentiments from firsthand experience!
 Questions?

Call 800-830-9523 or  
Email info@L-Tron.com

About the Author: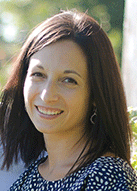 Carmella Giancursio is L-Tron's Public Relations Specialist & Content Editor. When she's not working, spending time with her husband, or taking care of her 3 young kids, she can be found in the kitchen, channeling her Italian heritage!  Email info@L-Tron.com with questions, or call us at (800) 830-9523.