I know.
You just read the title and are thinking, "Yeah, right!"
But I am dead serious.
The ChildFirst Mobile Solution gets the job done, without using pen and paper…or pencil…or marker…or any type of handwriting tool.
First you should know that there are two critical components of the ChildFirst Solution:
A Mobile Device (Android, iOS supported – for other platforms, please contact us)
ChildFirst Software
That's it.
All of your CPS forms can be easily customized and replicated to fit the needs and requirements of your agency.
Plus, when you reduce the number of binders, file folders, and loose paperwork floating around your desk, vehicle, and office environment, critical case information will remain secure and protected using reliable encryption methods.
When caseworkers are equipped with these components, CPS paperwork is a breeze. And believe it or not, there is little to no training required.
Here are 8 easy  and secure ways to input critical case information without writing it down.
 Dictate your  pre and post visit notes and allow the software to do the annoying work for you, converting your voice-to-text in real-time!  Watch a video demonstrating this feature here.
 Enter personal information (name, address, date of birth) just once and transfer this information to other forms with the touch of a button.
 Scan mailbox and door tags for simple confirmation of your visit.
 Automatically stamp any and all of your files with your GPS location, date stamp, time stamp and more.
 Collect signatures and initials.
 Capture and store photos, video or audio clips as needed for future reference.
 Push and pull data to and from other databases
 Lastly, there is an intuitive touchscreen to enter data. But who wants to type, when there are 7 other exciting ways to input your information?
If you're still having trouble believing the simplicity and practicality of this solution, this video may help to make things a bit clearer, watch below:
We'd love to talk with you and answer any remaining questions you might have.
Contact Us:
Call 800-830-9523 Email info@L-Tron.com or visit our Website
About the Author: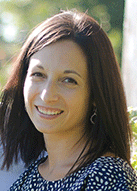 Carmella Giancursio is L-Tron's Public Relations Specialist & Content Editor. When she's not working, spending time with her husband, or taking care of her 3 young kids, she can be found in the kitchen, channeling her Italian heritage!  Email info@L-Tron.com with questions, or call us at (800) 830-9523.