One of the best things about working for a company like L-Tron is the people I work with.
Every month, our calendars quickly fill up with fun events, such as birthday celebrations, company BBQs, and local outings that break up the monotony of the work week.
It seems like at least once every week or two, someone is bringing in something to share with team – donuts, bagels, pizza, appetizers, you name it! We even have fun activities to participate in, such wine glass painting and ugly Christmas sweater day. Check out our News and Events section to learn more and see some pictures.
Then there are the acts of kindness when a team member or a family member is hurting. Everyone is so caring and reaches out to help any way they can.
And going a step further, the willingness and generosity of our entire team to help out in the community is second to none.

Over the past years, our team has donated gifts to local families in need with a giving tree at Christmas time.
Most recently, the L-Tron team donated cookies to show our appreciation to local Law Enforcement agencies and fire departments for the "Cookies for a Cop" program. This year we donated over 60 dozen to the Rochester Police Department, New York State Troopers, and Rochester Fire Department! It was so fun to deliver the sweet treats and be able to say "thank you" in person for all of their service and dedication to our community.
This past summer, L-Tron also headed up a charitable book drive for Golisano Children's Hospital in Rochester, NY. We had discovered that the hospital's "Reach Out and Read" program was in dire need of board books for its youngest patients, ages 6 months to 5 years and wanted to step up to help.
Together with several other local businesses, including Eastside Pediatrics; Jamison Eye Care; Joe Giancursio of RE/MAX Realty Group; and Lime Energy; L-Tron (both as a company AND the employees) really stepped up to the plate, donating over 140 brand-new hard cover and board books for the hospital.
Delivery of the books was just as special as it had been for the cookie delivery. The nurses who met us on the pediatric floor were so grateful and passionately expressed how the significance of our gift. Dozens and dozens of children and families would be impacted with the gift of reading.
As the holidays approach this year and there is bad news all around, let's remember that there is good news too – and it doesn't take much to go a long way in brightening someone else's day. It can be as simple as a cookie or a book!
About the Author: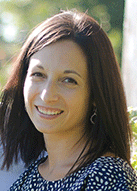 Carmella Giancursio is L-Tron's Public Relations Specialist & Content Editor. When she's not working, spending time with her husband, or taking care of her 3 young kids, she can be found in the kitchen, channeling her Italian heritage!  Email info@L-Tron.com with questions, or call us at (800) 830-9523.