Whereas once the workforce was made up of almost entirely men, in today's day in age, women actually make up the majority of the workforce! However, a gap remains in technology industries, where there are not as many women are pursuing careers and leadership roles.
Our company's co-owner, Gayle DeRose, is an exception. In L-Tron's high-tech environment, Gayle shines in her dual roles of Chief Operations Officer (COO) and Marketing Director. She stays current on "all things technology" and sets an example for up-and-coming women in the technology world to follow.
Here are some excerpts from a recent interview with Gayle. The full interview can be found here.
L-Tron's Beginnings 
"[My dad] drew a picture of a barcode on a piece of paper when I was 9 years old and told me that the lines were pieces of information and that all products would have a barcode in the future."
"My first job with L-Tron my dad hired me to file faxes for him at a rate of 25 cents per hour. I decided I was underpaid and quit…When I 'officially' began working here 25 years ago, I started from the ground up. I began my career here as an order processor- customer service rep and worked my way up to where I am now. There is nothing I won't do."
Leadership Strategy
"My favorite part of the job is that it's ever-changing, fast-paced, and agile, but my goal remains the same – to deliver quality service and delivery results for our clients at every opportunity, no matter what challenges come along. Challenges are opportunities to shine!"
"I am a collaborator. Everyone on our teams gets a voice, not just to be 'heard' but to be 'listened to' and then we implement our team's great ideas always keeping in mind the end goal of improved service and delivery. We actually have our own term here for 'everyone gets a voice,' known as 'intellectual sparring' – we spar every single day, it's fun and creative ideas are generated and also implemented!"
Industry Trends
"I'm always learning any way I can. I am forever a "techie" at heart. I like to stay in front of the trends by maintaining interest and curiosity, and then implementing what I've learned at the right time. My goal is to always improve!"
Advice for Today's Mothers
"…there is no more important job than raising children. As a mom, I was visible and involved in anything that interested my kids. In our family, education was the number one priority. We wanted our children to gain as much education as they needed/wanted to. Our goal was to set the expectation that getting an education was our children's number one "job" and then provide them with the guidance, support, and life experiences to help them reach their full potential. The rest was up to them."
Vulnerable Moments
"Moving into the role of COO and Marketing Director as the wife of a CEO, I had to demonstrate that what I had to bring to the table was valuable. It made me work a lot harder to prove that I was here to deliver results and contribute to the growth of our company… I am also extremely transparent, maybe too transparent at times, but I can't be any other way and I think that in itself makes me vulnerable."
Females in STEM Roles
"My aunt was the valedictorian of her class, a scientist, and a true inspiration. She was a trail blazer, using her computer and technology as a lifelong learner her entire 99 years of life…[Females] think a little bit differently and it's always good to bring a different perspective and new ideas to the table."
"…it's important to consciously instill confidence in our daughters, granddaughters, nieces, and other females in our sphere of influence, letting them know that they can do or become anything they choose. Our girls should be taught to use their voices, be curious, ask questions, stand strong, be heard, and don't back down. I've gained more confidence as I've 'grown up,' and now I understand that it's a good thing to be assertive and to stand strong."
Questions for Gayle?
Contact Us:
Call 800-830-9523 or Email info@L-Tron.com
About the Author: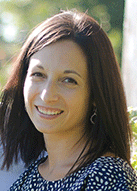 Carmella Giancursio is L-Tron's Public Relations Specialist & Content Editor. When she's not working, spending time with her husband, or taking care of her 3 young kids, she can be found in the kitchen, channeling her Italian heritage!  Email info@L-Tron.com with questions, or call us at (800) 830-9523.