If your household is anything like mine, there are toys everywhere. Action figures, dolls, instruments, Legos, and so much more. Yet my kids beg me almost daily for the latest video games. They would probably spend all day long sitting in front of a screen if I let them.
According to the American Academy of Pediatrics (AAP), kids commonly spend seven hours each day watching tv, on the computer, playing video games, or on their cell phones, despite the fact that studies show that too much screen time can result in problems with attention, academics, sleep, and health.
In fact, the AAP recommends that children have no more that 1-2 hours of screen time each day!
For this reason, no matter how many toys we have, I am always on the lookout for new toys and activities that will stimulate my kiddos – and encourage the two "I's": Imagination and Innovation. 
With the "I's" in mind, I have put together a list of the best STEM toys for the 2016 holiday season.
(STEM stands for Science, Technology, Engineering and Math, in case you're wondering!)
The Timeless Classics
Puzzles.
Puzzles have so much to offer, encouraging visual/spatial skills, fine motor development, problem solving strategies, perseverance and teamwork (if you jigsaw with a friend, of course).
Legos®.
Legos have been around since 1940, but they are more popular now than ever before! The stackable blocks are beneficial in numerous ways, including critical thinking, motor development, following directions, problem solving, organization and creativity.
Books.
Books – both for reading and activities – should always be a go-to on the gift list. It is a well-studied and proven fact that early literacy development plays a huge factor in later success in life. Reading increases knowledge and vocabulary; stimulates the mind; improves memory, focus and concentration; and helps to develop analytical thinking and writing skills.
Marbles.
Marbles have been around for centuries and have been used for creative play ever since. Many children like to collect marbles and there is, of course, the game of marbles to play with friends, but one of my favorite STEM activities is building marble tracks. Marble runs teach children important physics concepts, including gravity and cause/effect, improves spatial awareness and problem solving, and promotes fine motor skills and hand-eye coordination.
A Museum Membership.
This can be a wonderful gift that will pay for itself in just a couple educational and fun visits. Nationwide, there are museums that encourage an interest in and understanding of science and technology through interactive play and hands-on exhibits, such as my local Rochester Museum and Science Center.
The Latest and Greatest
Building Toys, such as Zoobs® and K'NEX®, take the Lego concept a couple steps further by allowing hands-on creation of structures with moving parts. The Zoob design is based on "the way things move in nature" and K'NEX are designed to allow kids to "imagine, build and play."
Magnets used for play can help children explore the concept of magnetism and can provide a fun way for them to practice other skills, such as spelling with letter magnets or sorting magnets based on shape, color or size. A favorite at our house is practicing structural engineering with Magna-Tiles®!
Snap Circuits® teach kids all about electronics in a fun and exciting way – kids build their own projects, ranging from radios and voice recorders to doorbells and burglar alarms. Such a cool introduction to electricity.
Monthly Gift Boxes from sites like kiwicrate.com send all of the materials and instructions needed to build, experiment, and create right to your doorstep. Each month is something completely new and exciting to play and learn with.
Coding Toys are getting cooler and cooler – I can't wait to get some! Fisher-Price actually has a "Think & Learn Code-a-Pillar" that the youngest kids can experiment with to make the caterpillar crawl according to coding command. For the older kids, Microduino kits let your Legos come to life by building, programming and magnetically connecting the coding components to your Lego creation!
What's on your list this holiday season?  Share your STEM toy ideas with us on Twitter @LTronDirect.
Happy shopping!
About the Author: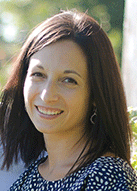 Carmella Giancursio is L-Tron's Public Relations Specialist & Content Editor. When she's not working, spending time with her husband, or taking care of her 3 young kids, she can be found in the kitchen, channeling her Italian heritage!  Email info@L-Tron.com with questions, or call us at (800) 830-9523.