At first glance, barcodes are pretty boring. Black, white, black, white, black…well, you get the idea. But the thing is, they are everywhere!
Virtually every product packaged for sale in a retail venue is labeled with a UPC (Universal Product Code) and then later scanned at checkout.
Honestly, the product competition out there is fierce and companies are always vying for ways to make their product stand out above the others. Obviously there are key factors such as ingredients, nutrition, and taste, but let's face it. Packaging is a big deal.
After all, isn't marketing all about appearance and perception? So why not spice up the appearance of the barcode?
These 3 companies decided to make full use out of every inch of their product label – including the barcode. I love the creativity!
Enjoy Life

I was pleasantly surprised to come across these two barcode designs when I was recently munching on some snacks. Enjoy Life makes tasty Seed and Fruit mixes, along with a variety of other foods for those with food sensitivities and allergies.

2. Jacob's Creek
I am not exactly a wine connoisseur, so when I was at the liquor store, I decided to choose my bottle of red wine based on the cool wine glass-shaped QR code on the bottle. Although the product UPC itself is a traditional design, the QR code is a great marketing tool that links directly to the Jacob's Creek website. I would be willing to bet that quite a few people have used their phones to scan that clever code.
They rebranded their line of organic pasta sauce a couple years ago and it is another favorite of mine. Their jar labels have a clean, fresh appearance and the lines
in the UPC continue up past the barcode and twirl around a fork, just like spaghetti. Such an original concept, isn't it?
You can create your own barcode for free using our barcode generator, although I must admit that you are on your own when it comes to adding the artistic designs. But if you're interested in generating your own barcode, whether it be QR Code, Data Matrix, Code 39, or more, you should definitely check out the generator below!
Have you seen any creative barcode designs?
I'd love to add more products to this list. Tweet @L-TronCorp with other creative barcodes you've seen!
About the Author: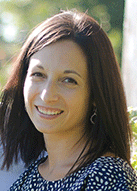 Carmella Giancursio is L-Tron's Public Relations Specialist & Content Editor. When she's not working, spending time with her husband, or taking care of her 3 young kids, she can be found in the kitchen, channeling her Italian heritage!  Email info@L-Tron.com with questions, or call us at (800) 830-9523