Have you ever considered – really considered – how times have changed from the inauguration of our first President?
As Donald Trump was sworn in as the 45th United States President last week, our country had already seen so many huge changes in technology.
Take a look at Presidential Technology Changes:
Inauguration
1789: President George Washington was the first U.S. President inaugurated. The only people who were able to listen to the ceremony were those within earshot.
1845: President James Polk's inauguration speech became the first live broadcast…using Morse Code from D.C. to Baltimore.
2017: Donald Trump is sworn in as the 45th U.S. President, as billions of people, worldwide, had the capacity to listen in or watch live on tvs, computers and mobile devices.
Communicating with American Citizens
1933: President Franklin D. Roosevelt first used the radio to informally address the American public through his "fireside chats".
1994: The first White House website was developed under President Bill Clinton's administration, where the home page read "Welcome to the White House: An Interactive Citizen's Handbook".
2017: President Trump plans to use social media, including the Twitter account that he used frequently throughout his campaign, to communicate on a personal level with the American people.
Security
1941: White House security became a real issue when the U.S. entered World War II. Bullet-proof glass was installed, along with special lighting and an air-raid shelter. Also in the 1940s came the first executive order about classified national security information, and every successive President has issued a similar executive order since.
2017: In this day in age, White House security includes an infrared heat-detecting system, an advanced air filtration system, and highly-restricted air space that is monitored with radar lasers. Cybersecurity is another looming threat, with the rise of cyber criminals and possibility of critical data and national security breaches.
While President Barack Obama's time in the White House may have come to an end, the digital infrastructure of the 21st century is only just beginning. Only time will tell what technology advancements are in store for Trump's presidency and beyond!
About the Author: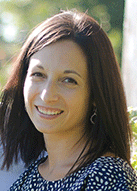 Carmella Giancursio is L-Tron's Public Relations Specialist & Content Editor. When she's not working, spending time with her husband, or taking care of her 3 young kids, she can be found in the kitchen, channeling her Italian heritage!  Email info@L-Tron.com with questions, or call us at (800) 830-9523.