We all see barcodes on a daily basis. Products in our homes have barcodes on their labels. The clothes we buy have barcoded price tags. Items that arrive on our doorsteps have barcoded shipping labels. The list goes on and on.
Yet, no matter how many barcodes we see, most people would never need to create their own barcode. Including me.
False.
🙂
I've discovered that there are so many things that you can use your own barcode for.
Some are business-related and some are just for fun. Here's a list of ideas for you to get the wheels turning.
Why People Need Their Own Barcodes
1. Marketing
If you work in any form of sales, a QR code is a great way to introduce marketing material to customers. A QR code just takes up a small amount of print space on paper, but opens a world of possibilities for those who scan the code and are directed to your website or PDF with more information on your business!
We use QR codes on our business cards!
2. Useful Consumer Information
A QR code can link to all sorts of helpful information, ranging from product installation instructions (in print or on YouTube), a calendar of events, directions to your location, or even a map of your location.
3. Education
Teachers everywhere are taking advantage of QR codes as a new and exciting way to get students engaged in their learning. For instance, some teachers are adding QR codes to books that link to additional information about the title and author. Others are using QR codes for interactive scavenger hunt activities. Some are even using QR codes on homework worksheets, linking to additional helpful information about how to complete the homework. Learn more in an article titled '25 Fun Ways to use QR Codes for Teaching and Learning."
4. Organization
Tired of having piles of user manuals lying around for your electronics and appliances? Attach a QR code to each appliance or device that links directly to the product guide. Then you can recycle the paper copy!
5. Fun
Want to be a tech-savvy parent? Moms and dads are scoring "cool" points by leaving QR codes for their kids to scan instead of handwritten notes. You can even take this a step further and add QR codes to your birthday cards for a personal touch!
So now that you have some ideas about how you can use barcodes "outside the box", it's time for you to get started!
Create your own barcodes with our FREE barcode generator – no strings attached.
Have fun!
About the Author: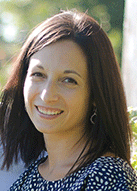 Carmella Giancursio is L-Tron's Public Relations Specialist & Content Editor. When she's not working, spending time with her husband, or taking care of her 3 young kids, she can be found in the kitchen, channeling her Italian heritage!  Email info@L-Tron.com with questions, or call us at (800) 830-9523.
Have you checked out our new barcode generator yet? If you have, what did you think? If you haven't, what are you waiting for?